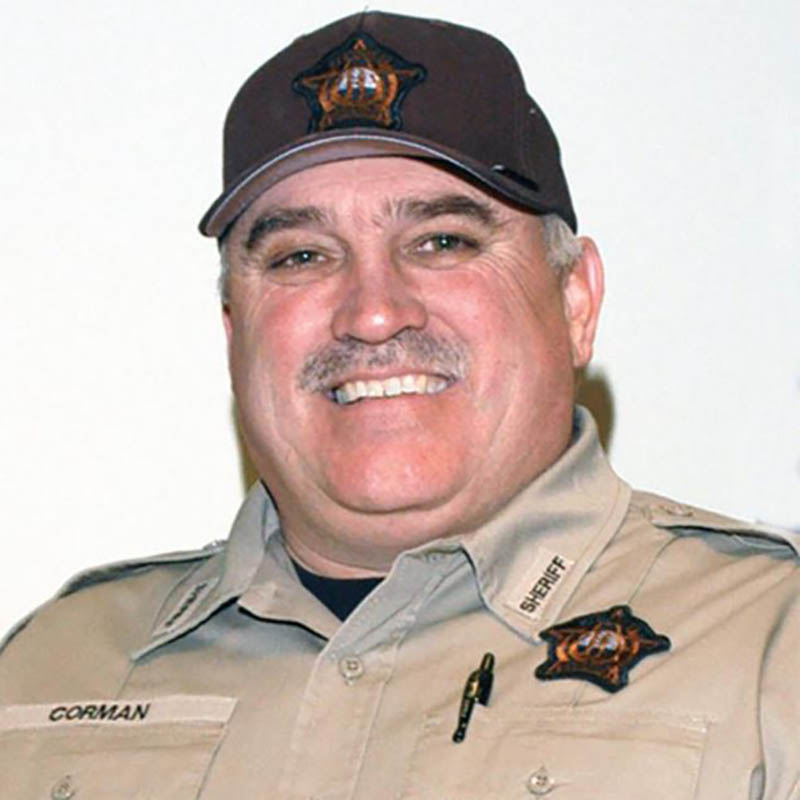 Kevin McDowell Corman, 64, husband of Tambara Elaine Barron Corman passed away Sunday, May 22 in his home. He was the son of the late Frank Corman and the late Elizabeth Ann Blankenship Corman, and Ann Walker Bruner Corman. He was a lifelong resident of Jessamine County. After graduating high school, Kevin began work at Portman Equipment Company where he would spend 22 years. From 1975 to 1981, Kevin served in the US Army Reserves. In 1986, he joined the Jessamine County Sheriff's Department.  Kevin would leave Portman and was appointed a full-time Deputy Sheriff in 2000. He became the Captain/Chief Deputy under Sheriff Joe Walker before becoming the Jessamine County Sheriff in 2006. He would spend the remainder of his life as the Jessamine County Sheriff devoting his time to the county he loved.
While Sheriff, Kevin would serve as President of the Kentucky Sheriffs Association as well as a member of the National Sheriffs Association. He also enjoyed member status in the Jessamine County Chamber of Commerce, Hart Lodge #61 F&AM, F.O.P. Frontier Lodge #74, and the Jessamine County Moose Lodge #2686. In addition, he served on the Board of Directors of KACO and the Law Enforcement Steering Committee of NACO. He was a dedicated Jessamine County Youth Baseball coach for 9 years.
In addition to his loving wife of 44 years, Kevin leaves behind Candace Boyd (daughter), Barry Corman (son), Ricky Boyd (son-in-law), Ann Walker Bruner Corman (mother), sisters Sue Clark (husband Ray) and Ida Ruth Young (husband Lynn), Dottie Stipe Bruner (sister-in-law) and four grandchildren: Cole, Ethan, Drew, and Ariana.
He was preceded in death by Frank McDowell Corman (father), Elizabeth Ann Blankenship Corman (mother), brothers Chris Caldwell Corman, "Pud" Bruner, and Tuck Bruner, in-laws Russell and Mary Houp Barron, and beloved pets Toby and Cooper.
Funeral services will be held in his honor at 1:00 PM on Friday, May 27 at the R. J. Corman Railroad Group Hangar 2 with Rev. Bill Bales officiating. He will be laid to rest on his family farm off Poortown Road. Honoring him as pallbearers will be Ricky Boyd, Barry Corman, and Jessamine County Sheriff's Office deputies. Honorary bearers include Jerry Adams, Dean Anness, Ray Clark, Clay Corman, Anthony Day, Tom East, Mike Hammond, Doodle Peel, Jerry Wagner, Joe Walker, Dwight Willis, and Lynn Young.
His family will hold a visitation from 2 PM to 9 PM on Thursday, May 26, and from 11 AM to 1 PM on Friday, May 27.  Please sign the guestbook and view a tribute at www.hagerandcundifffunerals.com. In lieu of flowers, the family requests donations be made to the Kentucky Sheriffs' Boys and Girls Ranch and/or the Jessamine County Animal Shelter.